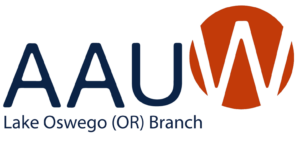 Welcome to the Lake Oswego Branch
of the American Association of University Women (AAUW)
Organized in 1976.
The branch draws members from:
Lake Oswego, Oregon City, Sherwood, Tigard, Tualatin, West Linn, Wilsonville, and more. Please check out this website for more detailed information about our branch.
++++++++++++++++++++++++++++++++++++++++++++++++++++++++++++++++++++++++++++++
GATHER:MAKE:SHELTER: Turning Surviving into Thriving,
a Unique  Community  Project 
Saturday, November 11th
Oswego Heritage House
398 10th St., Lake Oswego
9:30 – Social Time
10:00 – Program
When Dana returned to Portland in late 2016 from an Artist Residency Program in rural Senegal where she had collaborated with a group of women ceramicists, she experienced something that she found disturbing…  an angry and divided vibe in her hometown. It seemed everybody was on edge and the number of those in the houseless community was only growing.
She had made many trips to West Africa in the past which made her reflect how it was that people there were united, happy, and optimistic. 
On a  bike ride from home to her studio along the river, there was a critical chance encounter with tent camp members which turned into the genesis of an idea. Dana thought about how she could make a difference in the houseless and poverty crisis in PDX. With all the resources available here, surely something could be done.
Dana prides herself on thinking outside the box. The seed had been planted and positive interaction was the key. "Healthy and  productive relationships find common paths towards a shared goal."
Dana will tell us how with this vision in mind, she went from tutoring a few unhoused people in workshops in her own studio (with one paid assistant 5 hours a week) to what GMS has grown to be today, five years later.  
How her art of community building and the knowledge that her determination would eventually attract both funders and volunteers would  lead to success as the positive results became known.
Dana Lynn Louis is one in a million. Her creativity is as boundless as her tenacity.
_____________________________________________________________________________________________
We have several book clubs and other interest groups that meet throughout the year.  Please check the Interest Group tab and the newsletters for detailed information.
Not a member but interested?  Please contact our Membership Chair, Stephanie Wagner, at Stephanie@natureed.org