The American Association of University Women (AAUW) is a nationwide network of more than 170,000 members and donors, 1000 branches, and 100 college/university partners. For 134 years, AAUW members have examined and taken on the fundamental issues of the day-educational, social, economic, and political. Our commitment to our mission is reflected in all aspects of our work.
Welcome to the AAUW Lake Oswego Branch. Organized in 1976, the branch draws members from Lake Oswego, West Linn, and surrounding communities.
AAUW is open to all graduates who hold the Associate or higher degree from a college or university on the AAUW list of qualified institutions. We seek a diverse membership. There shall be no barriers to full participation on the basis of gender, race, creed, age, sexual orientation, national origin, disability or class. The branch supports AAUW Funds as well as providing a local scholarship at Marylhurst University.
Friendship Tea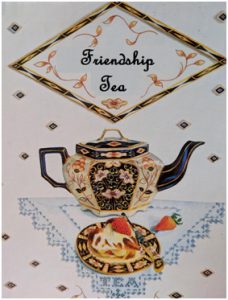 Date: Saturday, March 9, 2019, 11:30 a.m.
Location: Oswego Heritage House "A" Avenue and 10th Street, Lake Oswego
Cost: Tea $20 per person (RSVP and pay by March 1, 2019).
Raffle tickets for a quilt are $5 each and will be sold at the Tea.
Enjoy a traditional tea with finger sandwiches, scones, and sweets. It is time to invite your friends and send in your reservations for our branch's biggest fundraiser.
Please pay for the Tea online or send checks payable to AAUW Lake Oswego Education and Scholarship Fund to: Mary Pat Silveira, P.O. Box 416, Marylhurst, OR 97036 by March 1, 2019 or pay at the February meeting. Please tell us the names of your guests.
To volunteer to bring food for the tea, please call Jane Taft at (503) 709-3185.
To volunteer to help set up, serve, or cleanup for the tea, please call Marge Ransom at (503) 941-9591.
AAUW Lake Oswego
PO Box 416
Marylhurst, OR 97036
Email:  loaauw@gmail.com
Facebook:   www.facebook.com/aauwlakeoswegobranch/